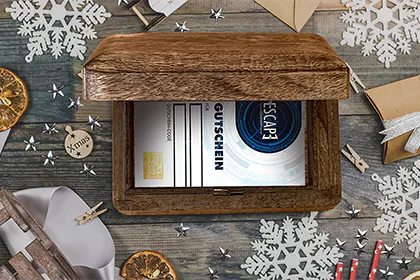 Give your loved ones admission to World of Magic (from summer 2023) or several outdoor games (from January 2023)! All our coupons have no expiry date and are valid for the entire range of existing and future indoor and outdoor games!
Quiz Night:

The next quiz night in the Escape Bar will take place at 8 pm on Thursday, 2nd of February!

Your teacher, Leonardo da Vinci, has been working on his newest masterpiece behind closed doors for the last few months. He works alone in his workshop until late at night, accompanied only by the clattering sound of his inventions. Until one morning, when the workshop falls silent. Leonardo da Vinci is gone, his whereabouts unknown. The only trace: a letter expressing an outrageous demand…

At this moment you only have one hour left to free your teacher – this will take all the skills he ever taught you!

People are disappearing in St. Gallen at an alarming rate. As one of your friends goes missing, you start to do your own research. The traces lead you to one suspect! You decide to take matters into your own hands and try to hunt down Hannibal, only to realize that he has been watching you from the beginning…

Hours later you wake up, the dizziness slowly fading. Locked in a dark cell, you begin to realize the seriousness of the situation. Hannibal is clearly messing with your mind. To stay alive you must escape!

You are a team of beer lovers who are wondering about a special type of beer that became more and more popular in the town of St.Gallen. What's the secret behind this beer? Why is its taste so irresistible?

You decide to make a plan. As you absolutely want to find out the brewing process of your favourite beer, you break into the brewery-pub. Your team has to find the way through the pub to the nearby brewery to find the recipe to brew your favourite beer. Secret hints and riddles will help you during the game. But be careful! You are burglars now! You only have one hour until the situation will get too risky!

You are a group of tropical storm hunters working on climate research. However, a hurricane you were studying has become much stronger than expected and blocked your way back to the airport. Your only hope was an emergency landing on a mysterious, uninhabited island in the middle of the Pacific Ocean. Luckily, you survived the emergency landing, but your plane suffered a lot of damage on the rocky terrain.

You know that the eye of the hurricane is heading towards the island and will reach you in an hour. You therefore only have one hour to somehow draw the rescue services' attention to you. A desperate struggle to survive begins!

Your discovery of archaeological artefacts in an old Mayan Temple has provided the long-sought solution for riddles around a shrine. The Mayas are said to have hidden their greatest and most valuable secret, a mystical crystal skull, in this shrine.

Beware, whoever steals this skull from the shrine exposes himself to the terrible curse of the Mayas!

You are an accomplished team of archaeologists that dare to recover the skull from the cursed shrine. Beware, deceptions and traps abound!

It's never easy to break out of prison. But to escape from this security area is said to be nearly impossible!

Your team was arrested due to a political conspiracy and your appeal was unsuccessful too. You find out, that in an hour you are to be extradited to the cruel dictator who instigated the plot against you. Your last chance: to flee!

This mission is especially tricky! We therefore recommend that you start your mission with at least 4 people!